The McDowell Agency Background Checks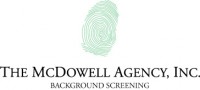 The McDowell Agency, Inc. is a full service private investigation firm that specializes in criminal background screening for both employees and volunteers. We are the largest provider of background checks for both public and private education in the state of Minnesota. We have been in business for almost 30 years.
Tim Landsberger
Director, Sales and Marketing
The McDowell Agency, Inc.
Toll Free: (877) 644-3880
Office: (651) 644-3880
Fax: (651) 644-3877