Duluth Edison Charter Schools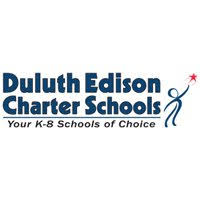 Addresses
North Star Academy,
3301 Technology Drive
Duluth, MN 55811
Raleigh Academy
5905 Raleigh Street
Duluth, MN 55807
Other Programs Offered
The school offers an after school program.
The school offers a before school program.
The school plans on offering Voluntary PreK in the summers of 2022 and 2023.
Programmatic Focus
Utilizing standards based assessing to ensure students are meeting the rigor of the standard. Focus on the whole child and meeting students where they are at: Socially, emotionally and academically. Specialist offerings include physical education, art, Spanish, STEAM, Outdoor Education, American Sign Language, Community Service Learning and music (band and choir beginning in 5th grade); high quality Multi Tiered Systems of Support structure to offer interventions in math, reading and behavior to provide support for students in reaching their greatest potential.
Mission
Duluth Edison Charter Schools is dedicated to the achievement of academic and personal excellence for every student.
History
Opened Fall, 1997
Awards & Recognition
Entering our 25th year serving the students of the Duluth area.
MDE School Finance Award -- 2012, 2016, 2019, 2020, 2021, 2022
Kenwood School -- 2008 School of Excellence Award from MN Academic Excellence Foundation
NAMM Foundation Best Communities for Music Education -- 2017, 2018, 2019
Minnesota Promising Practices awards
2017: Core Value Jamboree
2017: Reading Activators
2018: Raleigh's Veteran's Day program
2018: Stuffed Animal Buddy Project
2022: Postcards from the Pandemic
Accountability
Data for Parents and Educators
Learn More
Enrollment
Sasha Gohde