2011 Charter School Champion - Senator David Hann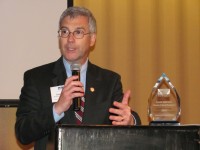 | | |
| --- | --- |
| Source | MN Association of Charter Schools |
The following is the citation that was read during the presentation of Sen. Hann's award:
The Minnesota Association of Charter Schools is proud to recognize your leadership in authoring and championing Senate Bill 55, the charter school authorizer extension bill in the Minnesota Senate during the 2011 session.
Under Senator Hann's leadership, the bill passed the Senate on the consent calendar within 10 days of its introduction – a feat that does not happen often.
Senator Hann, a strong proponent of public school choice and innovation, has been an ongoing champion of charter school legislation during his tenure in the Minnesota Senate. In his three terms in the Senate, he has authored and co-authored a number of bills to ensure fairness and equity for charter schools. In several sessions he has introduced legislation to provide charter schools with access to closed public school facilities. He has also introduced bills to provide greater funding equity, including: bills to reduce the annual holdback for charters schools to 5%, to accelerate holdback payments to charters, and to provide charter school students access to the Permanent School Endowment Funds. He has also labored on behalf of innovation in education, with his legislation to create grades 9-13 medical technology charter school academies.
As a member of the Senate Education Committee, he has been a fair and consistent voice in favor of charter schools, willing to challenge those who might misrepresent the facts and purposes of charter schools. Throughout the legislative process, he has demonstrated a willingness to listen and thoughtfully proceed in crafting legislation and promoting the principles of innovation in education, as well as the purposes of the charter school movement.
So on behalf of the members of the Minnesota Association of Charter Schools, it is an honor and privilege to call you, Senator David Hann, a "Charter School Champion."