2011 Charter School Champion - Representative Pat Garofalo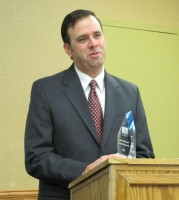 | | |
| --- | --- |
| Source | MN Association of Charter Schools |
The following is the citation that was read during the presentation of Rep. Garofalo's award:
The Minnesota Association of Charter Schools is proud to recognize your leadership in championing and bringing to fruition a series of legislative initiatives related to charter school funding in the 2011 session of the Minnesota Legislature.
As Chair of the House Education Finance Committee, Rep. Garofalo shepherded legislation through the legislative process to provide charter school students with funding from the Permanent School Endowment Fund. He also took leadership to get agreement for the early repayment of the "holdback" to charter schools when evidence was brought forth to demonstrate how much charter schools were expending on interest payments to deal with the state "holdback" to education. In the special session he took that concept and pushed for accelerated payments to charter schools for the regular aid payment during the year. While the final legislation in the special session did not go as far as he had hoped, the concept of accelerated payments for charters did become law.
It is important to know that the championing of these ideas did not begin when Rep. Garofalo took over the gavel as chair of the committee earlier this year. He also authored legislation for accelerated payments to charter schools and access to the Permanent School Endowment funding for charter school students when he was the ranking minority member of the committee.
Since becoming a legislator in 2005, Rep. Garofalo has championed legislation that would have allowed charter school students to participate in extracurricular activities in their home district, as well as a number of education innovation proposals that would aid all public schools, including alternative teaching licensure, early graduation achievement scholarships, incentive aid for schools to offer world languages, increases in student lunch aid, and the creation of 4R High Schools – high schools that would focus on relevance, rigor, results and relationships.
As both the Chair of the House Education Finance Committee and previously as the ranking minority member, he has been a consistent voice and laborer for equity and fairness in funding for students who attend charter schools.
So, on behalf of the members of the Minnesota Association of Charter Schools, it is an honor and privilege to call you, Rep. Pat Garofalo, a "Charter School Champion."