2011 Charter School Champion-Senator Gen Olson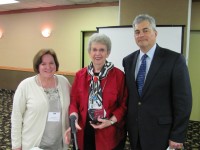 The following citation was read during the May 3rd Quarterly Public Policy Forum
The Minnesota Association of Charter Schools is proud to recognize your leadership in authoring and championing of charter school legislation in the Minnesota Senate throughout the history of Minnesota's charter movement.
While for 28 of her 30 years in the Minnesota Senate Senator Olson spoke from the minority side of the aisle, her voice on education policy has been respected throughout the Senate chamber and beyond. One of the areas of education policy she has consistently used her voice to advocate for during her tenure in office has been charter schools.
When one looks through the records and archives of the Minnesota Senate, there is only one name that appears on charter school legislation in every session since the enactment of Minnesota's charter school law in 1991, and that name is Senator Gen Olson.
Senator Olson has co-authored and championed legislation to: provide lease aid to charters, provide transportation aid for charters, provide referendum revenue to charter schools, allow colleges and universities to be sponsors, change the name "outcome-based schools" to "charter schools," provide charters with district cooperation revenue, allow the then state board of education to sponsor schools, create a revolving loan fund for start-up schools, establish MDE approval of sponsors, eliminate MDE approval of charters applications, allow school districts to convert to charter school districts, allow conversion of district schools by a vote of 55% of teachers instead of the then 90% requirement, allow five year contract renewals, permit sponsors to charge a fee for their oversight responsibilities, allow charter school access to integration aid, change compensatory aid for charters to be based on current year enrollment, allow charters to enter into joint powers agreements by defining charters as government instrumentalities for that purpose, allow five year leaves for district teachers who want to teach in charters, allow charters to own buildings directly and use public money to purchase buildings, require districts to offer charters a first option to lease vacant facilities, and the list goes on.
These are the just the legislative proposals Senator Olson advocated for in the first decade of the charter school movement.
Since 2001, she has continued to advocate and champion many of these proposals in one form or another, as well as many others including: creating single-purpose sponsors, restoring start-up aid after the cuts in the 2003 budget crisis, allowing charter school students to participate in extracurricular activities in their resident district, allowing charters to do short-term borrowing with backing of a state certificate of indebtedness, and clarifying conflict of interest rules for charters. In 2009, she was a co- author of the MACS Charter School Innovation and Accountability legislation that enacted many of the proposals she had advocated for over the years. In 2010, Senator Olson co-authored the Charter School Facilities Bill that would have allowed charters to own buildings and provide state bonding for facilities, measures that have been on her agenda since 1995. In the last two years, she authored or co-authored the bills for the extension for authorizer approval, the lifting of the cap on single-purpose authorizers, the elimination of MDE approval of board training providers, allowing five-year initial charter contracts, and exempting start-up schools from the holdback.
Throughout her legislative career -- no matter whether it has been charter schools, online learning, educational program options, career and technical education, or literacy -- Senator Olson has demonstrated a commitment and passion for innovation in education and for providing all students opportunities for individual success, and done it with integrity, dedication, style, competence, policy-making skill, and political finesse.
So, on behalf of the members of the Minnesota Association of Charter Schools, it is an honor and privilege to call you, Senator Gen Olson, a "Charter School Champion."