2018 Charter School Champion - Representative Carlos Mariani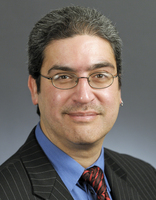 The Minnesota Association of Charter Schools is proud to recognize your leadership as an author, co-author, and championing of charter school legislation over the last 15 years.
Rep. Mariani has been a member of the House of Representatives since 1991, the year Minnesota's charter school law was enacted. During his first couple of terms in the legislature Rep. Mariani's focus on education issues centered on higher education and early childhood education as those were the subcommittees he served on.
Over time he expanded the legislation he authored and co-authored to include funding for Teachers of Color programs, site-based management, compensatory education, full-day kindergarten, and school choice for non-resident students of color.
In 2003 Rep. Mariani introduced the first of what would become a 15 year history of legislation dealing with chartered schools. That first bill H.F.2563 dealt with transportation of charter school students and how funding would be treated when the traditional district provided transportation. The legislation was a balance of the interests of charters and traditional districts.
In 2007 he introduced H.F. 2034 – charter legislation supported by MACS that would have made it clear that a church could not be a sponsor, clarified board members could not be related, allowed non-majority boards, prohibited sponsors from selling services to schools it sponsored, and require traditional districts to lease available, unused space to charter schools at market rates, along with several other provisions.
While that legislation never made it into law, Rep. Mariani continued to work with the charter school community to advance the provisions of that legislation.
In 2009, as Education Policy Committee Chairman he co-authored the H.F.623 authored by Rep. Linda Slocum, the legislation that would become MN Charter School Law 2.0.
In 2011, he co-authored the bill to give a one year extension on the implementation of the switch from sponsors to authorizers.
In 2013, he was the author of a bill that refined the provision about single purpose authorizers and another bill that addressed conflict of interest issues involving board members, required a nepotism policy, allowed the mutual change of authorizers at the end of contracts, and defined the role of boards in the evaluation of school personnel.
In 2014, he co-authored the legislation to give enrollment preferences to kindergarteners, and in 2015, he co-authored the legislation to recodify the charter school law.
In this past biennium, the co-authored the legislation that creates Innovation Zones which include both traditional and charter schools.
There is a host of other legislation that Rep. Mariani has authored that benefit students in charter schools – including mental health services funding, and English Language Learners.
During his tenure on the Education Policy Committee as both Chair and ranking minority party member, he has been a consistent voice and advocate for expanded opportunities and choices for students, equitable funding, and innovation.
So on behalf of the members of the MN Association of Charter Schools, it is an honor and privilege to call you, Rep. Carlos Mariani, a Minnesota Charter School Champion.