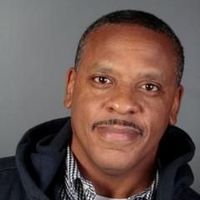 David T.C. Ellis is an exceptional charter school pioneer given that he hails from the world of music and has written that it was his music career that brought him to the founding of the High School for Recording Arts (HSRA).
David is a musician who early in his career worked with Minnesota's music icon – Prince. It was after that stint in his career that David's journey to his Life's work began. David had set up a music studio (Studio 4) on the skyway level of a building in downtown St. Paul. He has written about that time saying "All the kids who ditched school hung-out in the skywalks. They knew I had a studio. They would congregate there and always want me to let them in to show me what they could do."
For a while he blew them off – but eventually he let them in the studio and found that these kids were incredibly intelligent, talented and motivated but were bored in school. He wrote, "After a while I recognized that they were hands on, entrepreneurial learners like I had been in school."
With that in mind, he eventually created a pilot program and partnered with a with charter school – the St. Paul Family Learning Center – where his program soon had a waiting list. The demand for his program led to applying for a charter for a school that is now the High School for Recording Arts. The school is the only Minnesota charter school ever granted a charter to specifically serve graduation incentive eligible students – which is allowed in the charter law.
David has said, "My 'Life Work' was founding this school and continuing to provide opportunities for young people who are motivated and inspired by music, like I was".
The school pioneered the concept of connecting with at-risk students through a hip-hop music program – thus the school's nickname Hip-Hop High.
Over the years the school has grown in enrollment, it has also grown in reputation as a school model. David's work using and teaching hip-hop as a means of educating young people has been recognized by New York University, Cornell University and Oxford University in England, where he gave presentations on the school model at the Oxford University Round Table.
David, you are a Minnesota Charter School Pioneer who has helped "Unleash Education from Convention" as the founder and director of the High School for Recording Arts, but even more importantly for creating new and innovative educational opportunities for disenfranchised youth that give them hope and success.