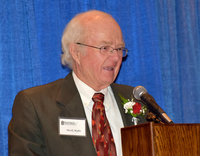 Mark Myles is a truly "unique pioneer" in Minnesota's chartered public school movement, being a Superintendent of Duluth Public Schools who worked to establish charter schools in that district five years after the charter school law was enacted.
In a 2018 Duluth News Tribune article Mark stated, "The school board saw the charter school legislation as an opportunity to introduce a different kind of school and to address the achievement issue."
So in 1996, he worked with the Duluth Public School Board to solicit proposals from across the country for charter school models. Ultimately the Board selected the Edison Project to operate the schools. Incidentally, all of the proposals were reviewed by the local teacher's union which indicated that the Edison proposal had the greatest merit.
While the local union indicated that the Edison proposal was the one with most merit, it did not express support for charters. In fact, once the Minnesota Federation and American Federation of Teachers became involved the union sued the district three times to stop the charters. Once on the grounds that the district was practicing unfair labor practices, a second time that the district was breaking the charter school law, and a third time, when they tried to include charter school teachers in the local bargaining unit. The unions lost all three cases.
Duluth Public School Academy (Duluth Edison) opened its doors fall of 1997. During that first year of the school with all of the efforts by the union against the chartered school, Mark worked diligently to ensure the school's future. He extended the leases of the Duluth Public School Buildings to the charter until 2003, and got the charter expanded to a K-12 option.
In 1998, Mark resigned as Superintendent of Duluth Public Schools. He has never regretted the work he did to bring charters to Duluth because he believes that giving parents an educational choice is extremely important. Mark has said, "When the charter schools were established, it seemed like the right thing at the right time when we needed to try something different to ensure student success."
Over the years Mark has continued his support for Duluth Edison serving as a mentor to the charter school board as well as the school director. He has also served on the Task Force that looked at adding a high school program, and has served on the school's board of directors.
Mark, you are a Minnesota Charter School Pioneer who helped "Unleash Education from Convention" as a Superintendent who understood the potential of the charter school law to stimulate innovation in public education and to provide new and different opportunities to address student achievement.